Viewing: All Entries
NY misclassification chase showing results
Posted by
on
Over the July 4th holiday, the Rochester, New York Democrat and Chronicle published a piece by Neil Gilberg, a member of the New York state Workers Compensation Board. Gilberg points to the progress the state has made in lowering rates for workers?? compensation insurance, largely due to the state??s crackdown on misclassification of employees as independent contractors.

There is reason to believe New England businesses and workers will see some of the same benefits in the next few years. Less than a year after New York established an inter-agency task force to work on worker misclassification, Massachusetts did the same. Efforts are now also underway in Connecticut, New Hampshire, Maine and Vermont to reduce the practice whereby employers illegally lower their business costs by misclassifying workers.

The Massachusetts Joint Task Force on the Underground Economy recently released its first annual report, detailing more than $1.4 million collected in owed taxes. They also pointed to an expected surge in compliance due to "word of mouth": and media coverage of "Stop Work" orders issued against companies that do not have proper workers compensation insurance.
Concrete Pour at Parking Deck
Posted by
on
Laborers and cement finishers working for S&F Concrete poured concrete today for the first section of the parking deck.




Concrete mixers, like the truck seen below, typically carry between 10-14 yards of concrete. Most trucks arriving on site today were carrying 11 yards.




This first section of the parking deck will require approximately 380 yards of concrete.

The parking garage will stretch along the south side of the building, by abutter H&H Builders, to the southwest side at Dorchester Ave. Visitors will enter from Dorchester Ave and drive up a slight ramp onto the top level of the parking deck. Cars will get to the lower level of the deck by using the ramp at the south side. The stairwell connecting the lower level to street level will be heated for de-icing purposes. Plastic tubes will be laid out within the concrete slab that will pump heated antifreeze from the boiler room in the basement of the building.

There will be 95 parking spaces at the Carpenters Center.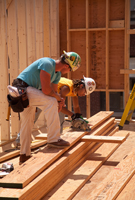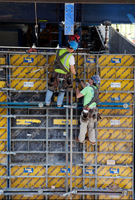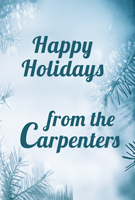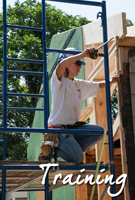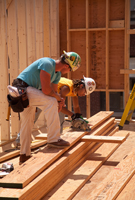 Featured Posts:
browse POSTS BY CATeGORY: