Organizers help carpenters in Holliston claim unpaid wages
Posted by
on
Thanks to the help of union organizers, carpenters working at the Cutler Heights affordable housing project in Holliston, MA, have finally received pay for 2-3 weeks of work. The group was employed by framing subcontractor Hampton Building Inc. The General Contractor at the site, located just behind Town Hall, was James J. Welch & Co.

The problems started on July 23rd when Hampton Building owner Anthony Iannacone issued checks to his employees. The checks all bounced. Iannacone passed the blame on to J.J. Welch saying the General Contractor was late in making payments, therefore leaving Iannacone??s company unable to cover the carpenters?? wages. The ten carpenters were owed an estimated $38,000 in unpaid wages.

The story was first reported in the MetroWest Daily News on August 6th. In the article, Hampton Building Foreman Dean Morin was quoted as saying ??since it was not a union job??the carpenters have been having trouble finding any sort of recourse.??

After reading the story, Union Organizers Mario Mejia contacted Daily News reporter Kendall Hatch and asked if would have one of the carpenters contact him. Mejia received a phone call late Sunday night and coordinated with the carpenter to meet the group at the jobsite with other Union Organizers.

On August 10th, Union Organizers met the carpenters at the site and spoke with the project superintendant Jim Estrella. After getting nowhere with the project superintendent, the Union representatives stood with the employees to strike at the site (Read more here).

After weeks of getting nowhere, thanks to the help of the Carpenters Union, the group was finally issued checks; however this did not happen without a hitch. Initially, the carpenters were given joint checks by the General Contractor James J. Welch & Co. The joint checks were filled out using the word ??and?? between the two entities (i.e. Joe Carpenter and Hampton Building Co.), instead of ??or??, so the bank was unable to cash the checks.

A second set of checks were finally issued yesterday at 5:30 pm, however the banks were closed for the day. The carpenters reached the end of yet another day with empty pockets.

To read more about this story in the MetroWest Daily News click here.

Update: Organizer Mario Mejia has reported the carpenters were able to cash their checks first thing this morning when the banks opened.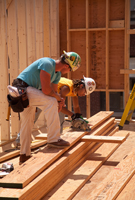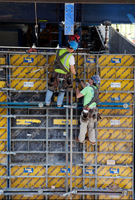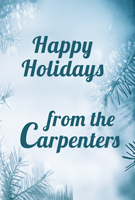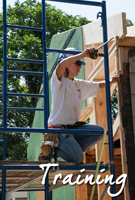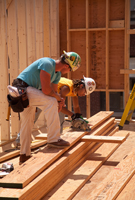 Featured Posts:
browse POSTS BY CATeGORY: