Governor Patrick visits the Carpenters Center
Posted by
on
To see more pictures, click here.
Patrick fires up Carpenters Center
A friendship was renewed this week at the Carpenters Center as Massachusetts Governor Deval Patrick visited with more than 450 union carpenters to talk about his first term in office and his re-election campaign. He was greeted enthusiastically by members both eager to continue the relationship and fearful of what might happen if Republican Charlie Baker were elected.
Four years ago Patrick joined Organizers from the Carpenters union on a visit to a nonunion site on the North Shore. Despite the rain and threat of arrest, Patrick dove right in, learning firsthand how some contractors in the industry cheat workers out of their wages or basic protections like unemployment or workers' compensation coverage. After his election, Patrick went to work on the underground economy, establishing a Task Force of multiple state agencies to share information and cooperate on enforcement efforts.
Both Patrick and NERCC Executive Secretary-Treasurer Mark Erlich recounted the experience and how it shaped the Patrick administration.
Erlich got the crowd fired up talking about the beating the construction industry has taken over the last two years, it's struggle to recover and the contrasting the positions of Governor Patrick and Charlie Baker on important issues:
"Corporate profits are up, the banks are flush with cash, but they will not lend, they will not spend and, as a result, we don't build," Erlich said. "But that's what Deval Patrick has done. Charlie Baker and Tim Cahill want to slash and burn and eliminate any further investment in public construction.We know what the consequences of that would be"
"Governor Deval Patrick has made it clear that he supports a state prevailing wage law.Charlie Baker opposes it. Governor Deval Patrick re-established the Secretary of Labor position and has put the talented Joanne Goldstein in that position. Baker demonizes unions on tv ads and everywhere else and Tim Cahill could care less if unions played a role in state government.
"Governor Deval Patrick opposed cutting unemployment benefits from 30 to 26 weeks because he recognized the pain that people are experiencing in the depths of this recession.Charlie Baker supported the cuts and Tim Cahill told a talk radio host that Massachusetts benefits are too high and jobless workers collect too long.
"Governor Deval Patrick supports Project Labor Agreements, Charlie Baker opposes them.
"Governor Deval Patrick has made record numbers of labor appointments to important state boards and agencies. You can bet that would not happen under a Baker or Cahill administration."
Govenor Patrick then took the microphone and highighted his efforts to serve not just the bottom line of the budget, but the citizens and the future of the Commonwealth.
"Government is about people, not abstract policy ideas," he said, before talking about groups of unemployed workers he has met who are frustrated, but not necessarily angry, the way they are made out to be by talk radio shows.
"They're not angry, they're scared," Patrick said. "They're not looking at the Governor or the Mayor or others and saying it's their fault. they're not looking to government to solve their problems. They jsut want to know that you see them. That you're worried about them, and that you're doing what you can for them. The whole confidence in the American Dream is up for grabs."
"Charlie Baker doesn't see you. He doesn't see the people behind the choices we have to make. To him, the budget is a math problem. For me, it's about people, human beings. And the hard and difficult and compelling balance that we have to strike.
Patrick then confronted an issue that has been at the forefront of carpenters minds this election season: a casino bill. Saying he proposed the first casino bill and appreciated the help of union carpenters and others to push it forward, he said he wouldn't sign the existing bill because it served connected special interests on Beacon Hill, not workers.
He pledged to continue and win the fight with "a good bill, a jobs creating bill because it will emphasize where the jobs are, which is in the destination resort style casinos and not just wheeling in slot machines to tracks that are connected and are powerful interests on Beacon Hill.
Patrick took questions from several union members, then lingered to shake hands and have one-on-one conversations with members about the election and the construction industry.
"I think Governor Patrick showed that he's interested and concerned with our issues and our members," said Political Director Tom Flynn. "He has a difficult election, but I think he convinced a lot of carpenters to support him and help on his campaign because he's on their side. I think he motivated a lot of union carpenters."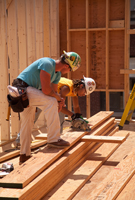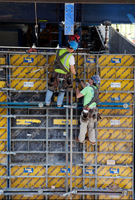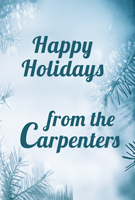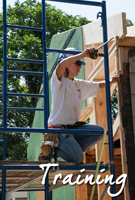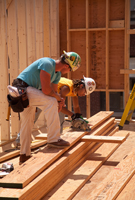 Featured Posts:
browse POSTS BY CATeGORY: