NERCC Awards $56,000 in scholarships
Posted by
on
The New England Regional Council of Carpenters has awarded more than $56,000 to 138 students as part of its annual scholarship program. In the last five years, the program has given away awards totaling more than a quarter of a million dollars.
A brother and sister won the top two awards this year! Joshua Webber was awarded $5,000 while Rachel Webber won $3,000. Their father, Theodore Webber, is a member of Carpenters Local 33 in Boston.
Applicants were required to write an essay of between 500 and 1000 words on the following topic:
Over the past 30 years, the U.S. has entered into Free Trade agreements with numerous countries. Now the Obama administration has proposed the new Pacific trade and investment deal, the Trans Pacific Partnership. Discuss the pros and cons of this and past free trade agreements. Are they beneficial to the U.S. economy? What is the impact of this agreement on American jobs, and the wages of American workers?
Joshua and Rachel attended the NERCC Delegate's meeting last weekend in Millbury, where they read their essays. Following is a list of scholarship winners, listed with their member parent or guardian and their local union affiliation.
Joshua Webber (Theodore Webber, Local 33)
Rachel Webber (Theodore Webber, Local 33)
Francesca Ambrose (Michael Ambrose, Local 56)
Gabriel Bamforth (David Borrus, Local 56)
Emma Barile (Timothy Craw, Local 108)
Gabriel Cain (Christopher Cain, Local 107)
(click here to read the entire list)

Information about the NERCC Scholarship Program

NERCC SCHOLARSHIP COMMITTEE
Mark Erlich, Executive Secretary-Treasurer
Brian Richardson, Organizing Director
Al Peciaro, Director of Contractor Relations, Executive Director of NECLMP
Beth Conway, NERCC Controller

AWARDS
Year # students Award
2012 151 $50,350
2013 107 $52,050
2014 153 $59,650
2015 124 $56,100
2016 138 $56,650
Total 673 $274,800

ELIGIBILITY
1. Members in good standing and dependent children of members in good standing from any Local of the Council are eligible to apply. Grandchildren are eligible only if the grand parent is the legal guardian of the student. Children who are not legal dependents of a member are not eligible. Children of members who died within five years prior to January 1, 2016 are eligible.
2. Applicants must be enrolled in a post high school program.
3. College level programs must consist of at least three courses of three credits each.
4. Courses in technical or specialty schools such as automotive training, computer training, etc. can qualify if the program is at least six months in duration, is full-time, and awards a certificate or diploma upon completion.
5. Students must have a "C" average to apply.
6. Students can apply for a scholarship each year throughout their undergraduate years (not to exceed four years). The Committee will have the final say as to a particular student's eligibility.
7. Graduate students and students working toward a second bachelor's degree are not eligible.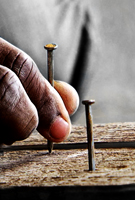 Featured Posts:
browse POSTS BY CATeGORY: