Posted by
on
Delegates to the New England Regional Council of Carpenters today elected Thomas J. Flynn to serve a four-year term as executive secretary-treasurer of the union. Flynn has been serving in the position since March 1, when he was appointed by the NERCC Executive Board to take over for the retiring Mark Erlich.
"The Flynn Team," nominated by Dave Palmisciano, included the following candidates:
Thomas Flynn, Executive Secretary-Treasurer
Richard Monarca, President
Brian Richardson, Vice President
Jeff Wolcheski Warden
John Murphy, Conductor
Mynor Perez, Trustee
Paul Lander, Trustee
Joe Byrne, Trustee
Executive Committee
Jack Donahue
Gary DeCosta
John Leavitt
Bruce Lydem
John Cunningham
The only candidate to run against the Flynn slate was Rick Anderson, who nominated himself for a position on the Executive Committee. He received 10 votes, finishing sixth in a race for five positions.
The elected members will serve terms ending in June 2021. The United Brotherhood of Carpenters had awarded dispensation for the New England Regional Council to move the election of officers to June from September of this year.
The board will include three members that were not previously elected. Jeff Wolcheski and Joe Byrne ran and were elected for the first time. Mynor Perez was also elected. He had previously been appointed to fill a position left open when Erlich retired.
In anticipation of his retirement, Dave Palmisciano did not run for re-election to the board. He was the last remaining member of the board who had served since the council's formation in 1996. Al Peciaro also did not seek re-election. Formerly the director of contractor relations, he left the council last month to take a position with a union contractor.
Flynn is the fifth person to serve as executive secretary-treasurer of the New England Council since the regional governing body was formed in 1996, following David Dow (1996-1997), David Bergeron (1997-2001), Thomas Harrington (2001-2005) and Mark Erlich (2005-2017).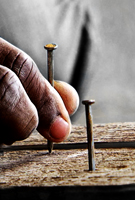 Featured Posts: