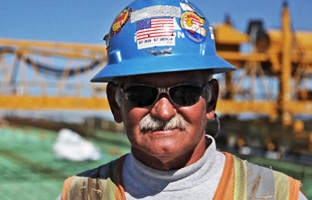 They can say Granddad worked on that bridge.
NERCC Member Since 1998
Gene is a member of Local 1996, based in Burlington, Vermont. He takes a lot of pride working on projects in the state he lives in. He notes the sense of accomplishment that comes from seeing a project from the ground up.
Gene found a particular sense of accomplishment working on a substantial project in his community, the Lake Champlain Bridge, which links Crown Point, NY and Addison, VT. As the carpenter steward on the project, he is also proud of all the carpenters that worked alongside him.
"There has been a lot of high tech stuff done here. When you look at it, it looks like it's just any other bridge, but it's not. The project involved a lot of complicated concrete work and a lot of it was done in the dead of winter, a very tough winter. The carpenters have performed exceptionally well here."
Something special about being a union member: "There's camaraderie that's a little different belonging to a Local…you have someone looking out for you."