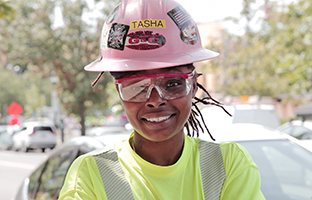 Females - they're very welcome in the trades.
NERCC Member Since 2004
Tasha Wormley first joined Carpenters Local 24 as an apprentice, where she learned the value of the training opportunities available to all union carpenters. After completing the apprenticeship program she began work as a journey-level carpenter, but continued to take advantage of the comprehensive skills upgrade training courses, which are free for all members of the Carpenters union. Training throughout a career allows union carpenters to both hone and expand their skills. On this job at Yale University, Wormley installs flooring for the first time in her 14-year career.