(Click here for links to news coverage.)
New Hampshire-based developer Brady Sullivan is in the midst of a major environmental scandal, as investigators from federal, Massachusetts and New Hampshire agencies look into mishandling and dumping of toxic materials at multiple company sites. The investigations were triggered, in part, by a petition organized by the New England Regional Council of Carpenters, Public Citizen and Clean Water action, which was signed by more than 20,000 people in just a few months.
Brady Sullivan hired a contractor to sandblast lead paint off walls in the lower floors of the Mill West complex in Manchester, New Hampshire, while the upper part of the building was occupied by families, including children. The contractor didn't have a permit to sandblast and lead dust spread into more than three-quarters of the apartments.
Tenants of the Mill West complex, doubting assurances from Brady Sullivan that proper protocol was being followed, tested for lead in and around apartments. One spot tested showed a lead level more than 680 times the legal limit. The contractor did not have a proper permit to sandblast and its employees apparently lacked the proper training required.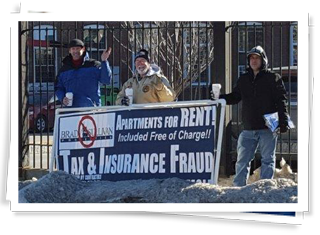 Lead is a neurotoxin. Exposure can cause seizures, brain damage, kidney failure, nerve damage and, in children, severe developmental problems. Any amount of lead in a child's bloodstream is, according to the U.S. Centers for Disease Control and Prevention, unsafe. Lead also is highly toxic for adults.

The Manchester Health Department put a stop to the sandblasting and the EPA issued a clean-up order.
Over twenty tenants of the Mill West complex are suing Brady Sullivan Properties, claiming widespread contamination and seeking monetary damages and no-cost termination of their leases.

Over 20,000 signatures were gathered in an online petition urging "the EPA to undertake a full audit of Brady Sullivan Properties' converted mill properties in New Hampshire, Massachusetts and Rhode Island and levy appropriate fines against Brady Sullivan Properties to hold it accountable for what has been called the biggest known lead hazard in recent New England history and to ensure that no more of its residents are exposed to dangerous levels of lead."

Brady Sullivan is also in the midst of investigations involving allegations of illegal dumping of hazardous waste in Londonderry, New Hampshire and Lawrence, Massachusetts. Earlier this year, the NH Department of Environmental Services (DES) issued a "letter of deficiency" to Brady Sullivan citing six deficiencies that involve violations of state law or DES regulations. Contaminated soil from the Mill West project was dumped into a Londonderry gravel pit. Hazardous waste was detected in the groundwater at over six times acceptable levels. Although Brady Sullivan then removed over 600 tons of contaminated soil from the site, more tainted soil remains on site. The investigation is ongoing and decisions about fines or criminal charges had not been made at print time.
In Lawrence, MA, the federal EPA and Massachusetts EPA are investigating allegations that truckloads of debris laced with asbestos and lead were dumped at Pacific Mills, a Brady Sullivan property. Investigators suspect the contaminants were mixed in the cement of basement flooring at the project, which includes 81 apartments scheduled to open this summer as well as commercial property. This investigation is ongoing.

"Brady Sullivan has a history of hiring low-road contractors. They continue to hire Interior Partition Specialists that has committed wage theft and tax and insurance fraud on their projects. And now, sadly, the tenants at Mill West are exposed to the biggest known lead hazard in recent New England history," said David Minasian, organizer for the New England Regional Council of Carpenters. "The lead dust incident at Mill West is not surprising as Brady Sullivan's business model is based on maximizing profits by hiring contractors that cut corners to increase profits. Unfortunately, this approach has endangered workers and now has put their tenants at risk."

Follow News Coverage:

Complaints About Toxins, Shoddy Construction Trail New England Developer - RI Public Radio 12/27/16
Clive McFarlane: Deal with courthouse developer was a 'slap in the face' - Worcester Telegram & Gazette 12/14/16
Lebanon Planning Board Delays Approval of Prospect Street Project - Valley News 9/13/16
EPA Says NH Developer Brady Sullivan Broke Federal Lead Paint Laws - NH Public Radio 8/4/16
DES says it did not approve Brady Sullivan's dumping - New Hampshire Union Leader 7/20/16
State DES Says Mill West Soil Dumped in Londonderry Was Tainted - Manchester Union Leader 4/26/16
Editorial: EPA, DEP Owe Us Answers on Lawrence Asbestos Contamination - Lawrence Eagle Tribune 4/24/16

Mayor: City Kept in Dark on Asbestos Probe - Lawrence Eagle Tribune 4/22/16

Desde Mi Esquina/From My Corner - Hazardous waste buried under Pacific Mills – Rumbo News 4/22/16
EPA Probes Alleged Asbestos Dumping from Mill West Building - Manchester Union Leader 4/19/16

State, Feds Discuss 'Criminal Investigations' Linked to Asbestos at Brady Sullivan Site - NH Public Radio 4/19/16

More Concerns Raised About Old Courthouse Developer – GOLocalWorcester.com 1/7/16

New England Carpenters Raise Red Flag on Developer with RI Properties – GoLocalProv.com 1/5/16

Worcester Carpenters Raise Red Flag on Court House Developer - GoLocalWorcester 1/4/16
Thousands Sign Petition Asking EPA to Investigate Lead in Mill West - Manchester Union Leader 12/16/15
Tenants' Suit Against Brady Sullivan Allowed to Go Foward - Manchester Union Leader 11/10/15
Sign the Petition Today! - nercc.org for Public Citizen - 8/7/15

Brady Sullivan Downplayed Health Risk of Lead Dust to Tenants - New Hampshire Public Radio 7/3/15
Infographic: A Timeline of Lead Concerns at Manchester's Mill West - New Hampshire Public Radio 7/2/15
Developer Cited for Illegal Burning - Deerfield Valley News 7/2015
EPA Takes Action Against Brady Sullivan Properties for Hazardous Lead Contamination - NH Public Radio 6/19/15
Manchester Tenants Sue Landlord, Contractor for Lead Exposure - NH Public Radio 6/12/15
Mill West Tenants File Suit Over Lead - Manchester Union Leader 6/12/15
Report/Recap of NHPR story on criminal investigation of Brady Sullivan- Mass Live 3/25/15

Carpenters Speak at Public Meeting on Brady Sullivan as Buyer/Developer of Worcester Courthouse - nercc.org 3/25/15

Everybody Out: Manchester Self-Storage Renters Displaced by Property Developers - NH Public Radio 9/1/14