Get up to speed with the key facts about employer payroll fraud: What is it? Why should you care? What are the costs? Who pays? Most important, how can you help to stop it?
Attorney General Offices – Each state attorney general is the chief legal advisor to the state government and the state's chief law enforcement officer.

Connecticut
New Hampshire
Massachusetts
Maine
Rhode Island
Vermont
If you or a carpenter you know is having problems with their employer, we can help.
The New England Carpenters Labor Management Program works with carpenters to connect with federal and state agencies that may be able to investigate and prosecute.

Fill out this form to contact us:
The following video was filmed at the height of the recession in 2011. Due to the economy, a lack of awareness of their rights and slow enforcement, an increased number of nonunion construction workers were being cheated out of their pay. Although the economy is recovering from this recession, unscrupulous contractors continue to exploit workers.
Additional Resources:

IRS Pub. 15A: Employers Tax Guide: Employee or Independent Contractor?


IRS Form 8919: Filing for Employees Treated as Independent Contractors


IRS Form SS-8: Determination of Worker Status
Massachusetts Joint Task Force on the Underground Economy and Employee Misclassification
National Employment Law Project
A national advocacy organization for employment rights of lower-wage workers. Contains news, policy papers, and "know your rights" publications. This group promotes policies and programs that create good jobs, strengthen upward mobility, enforce hard-won worker rights, and help unemployed workers regain their economic footing through improved benefits and services.
National Labor Relations Act
Congress enacted the National Labor Relations Act ("NLRA") in 1935 to protect the rights of employees and employers, to encourage collective bargaining, and to curtail certain private sector labor and management practices, which can harm the general welfare of workers, businesses and the U.S. economy.
New Hampshire Task Force for the Misclassification of Workers
Occupational Health and Safety Administration (OSHA)
OSHA is the main federal agency charged with the enforcement of safety and health legislation.
U.S. Department of Labor
The Department of Labor offers information for workers and employers including; news, regulations, laws, job initiatives, statistics and contacts.
Connecticut
New Hampshire
Massachusetts
Maine
Rhode Island
Vermont
U.S. Department of Labor Employee Misclassification Initiative
The Department's Misclassification Initiative, launched under the auspices of Vice President Biden's Middle Class Task Force, is making great strides in combating this pervasive issue and to restoring these rights to those denied them.
U.S. Department of Labor The DOL Wage and Hour Division (WHD)
Responsible for enforcing some of our nation's most comprehensive federal labor laws on topics, including the minimum wage, overtime pay, recordkeeping, child labor and special employment, family and medical leave, migrant workers, worker protections in certain temporary worker programs, and the prevailing wages for government service and construction contracts.
English: U.S. Department of Labor Wage and Hour Complaint Form
Spanish: U.S. Department of Labor Wage and Hour Complaint Form


It's easy to get in touch!
Pulte Homes Strike - Fighting Wage Theft
Pulte Homes Strike
Honest Employers, Honest Workers: Fighting Payroll Fraud
Payroll fraud has long been the construction industry's dirty little secret. The UBC is helping officials around the country to bring it into the light and make our construction markets fair and honest again. Click here to learn more.
Explore Our Work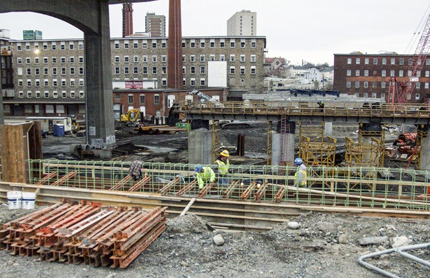 browse projects by industry:
browse projects by region: